The {Page-Turner-Cookbook} featuring
Algeria
Cuisine is influenced by:
- African -
Traditional Algerian cuisine, a colorful combination of Berber, Turkish, French, and Arab tastes, can be either extremely mild or packed with flavorful seasonings. Ginger, saffron, onion, garlic, coriander, cumin, cinnamon, parsley, and mint are essential in any Algerian pantry.
Couscous , the national dish, is often mistaken as a grain itself, rather than pasta. The pasta dough is a mixture of water and coarse, grainy semolina wheat particles. The dough is then crumbled through a sieve to create tiny pellets. Algerians prefer lamb, chicken, or fish to be placed on a bed of warm couscous, along with cooked vegetables such as carrots, chickpeas, and tomatoes, and spicy stews. Couscous can also be used in desserts by adding a variety of ingredients, such as cinnamon, nutmeg, dates, and figs.
No Algerian meal would be complete without bread, normally a long, French loaf. Similar to Middle Eastern customs, bread is often used to scoop food off of a plate or to soak up a spicy sauce or stew. More traditional Berber families usually eat flat, wheat bread.
Mechoui , a roasted whole lamb cooked on an outdoor spit, is usually prepared when a large group of people gathers together. The animal is seasoned with herb butter so the skin is crispy and the meat inside is tender and juicy. Bread and various dried fruits and vegetables, including dates (whose trees can thrive in the country's Sahara desert), often accompany mechoui .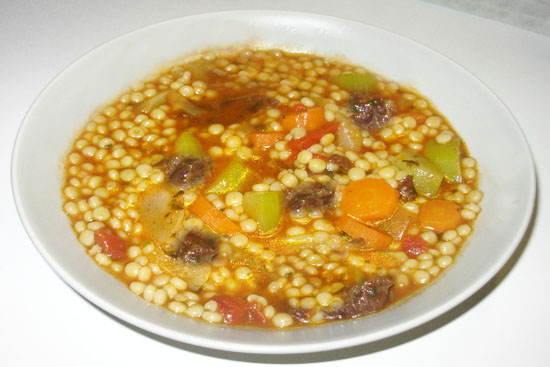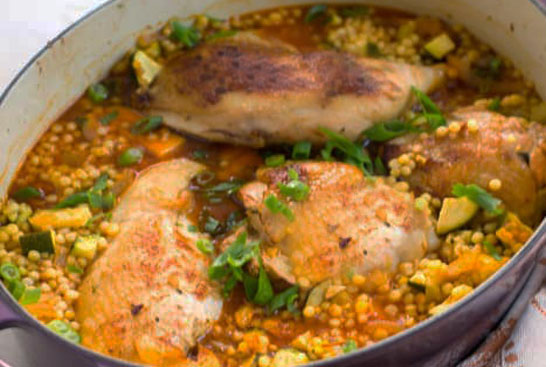 The Chicken Couscous is a flavorful and healthy dish with exotic spices but still simple enough to make any day of the week.
Pearl couscous, sometimes also called Israeli couscous is the same as regular couscous but just a bit bigger and sometimes comes in various colors.
Serves: 8
Preparation time:20 minutes
Cooking time:1 hour 30 minutes
3 tablespoon Moroccan spice blend recipe below
4 chicken breasts about 1 1/2 lbs, boneless and skinless
2 tablespoon olive oil
1 large onion chopped
5 cloves garlic minced
1/2 cup golden raisins
14 ounce chickpeas (1 can) drained and washed
14 ounce fire roasted tomatoes (1 can)
3 cups chicken broth low sodium
1 cup pearl couscous dry
4 cups kale rinsed and roughly chopped
Moroccan Spice Blend
1 teaspoon ground cumin
1 teaspoon ground cinnamon
1 teaspoon ground ginger
1 teaspoon salt
1/2 teaspoon black pepper
1 teaspoon paprika
1/2 teaspoon allspice
1 teaspoon coriander
1/2 teaspoon turmeric
1/4 teaspoon cayenne pepper
1 teaspoon cardamom
Preheat oven to 375 F degrees.
Combine all the Moroccan spice blend ingredients together. The recipe should yields about about 3 tbsp.
Season the chicken breasts with 2 tbsp of the Moroccan spice blend thoroughly. Use more as preferred.
In a large Dutch Oven or a oven safe pot, heat the olive oil over medium-high heat. When the oil is hot add the chicken breasts and sear on both sides until browned, about 2 to 3 minutes per side.
The chicken will not be cooked through at all, it will just be crispy on the outside. Transfer the chicken from the pot to a plate and set aside.
Add the onion and garlic to the pot and saute for about 3 minutes until onion softens and becomes translucent and garlic is aromatic. add the remaining 1 tbsp of the Moroccan spice blend and stir.
Add the golden raisins, chickpeas, fire roasted tomatoes, chicken broth, couscous and stir well. Gently stir in the kale. Bring to a boil, then add the chicken breasts back.
Cover the pot with a lid and place in the oven. Cook in the oven for 30 minutes with the lid on, then remove the lid and cook for an additional 30 minutes.