The {Page-Turner-Cookbook} featuring
Bhutan
Cuisine is influenced by:
- Asian -
Rice forms the main body of most Bhutanese meals. It is accompanied by one or two side dishes consisting of meat or vegetables. Pork, beef and chicken are the meats that are eaten most often. Vegetables commonly eaten include Spinach, pumpkins, turnips, radishes, tomatoes, river weed, onions and green beans.
Traditional Bhutanese food has been influenced by its neighbors, especially China, Tibet, and India. But like the country itself, the local cuisine has been able to maintain its unique character. It's less oily than Chinese or Indian food and spicier than most Tibetan dishes.
Ema Datshi – (chilies and cheese) If there is one national dish of Bhutan, this is it. It's so ubiquitous that some say if you haven't eaten ema datshi, you haven't been to Bhutan. The locals eat the stew, which is similar to a curry, daily along with red rice. It's made of green, yellow or red chilies, yak or cow's milk cheese, onions and tomatoes. Taste very carefully, though. The chilies of Bhutan are high up on the Scoville Heat Scale and are meant to make you warm enough to sweat.
Red Rice Regardless of where you eat–from the elegant Aman and Uma resorts to an outdoor village festival, you will get red rice.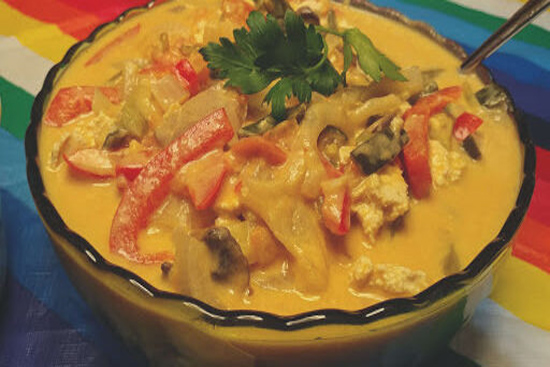 THE CHILI AFFAIR
Ema Datshi, the national dish of Bhutan is a deliciously spicy stew made of chili peppers, onions and locally produced yak cheese.
Bhutanese have an undying love affair with chili peppers. Their journey with chilies begins from their infant age. Every dish in the Bhutanese cuisine invariably has copious amounts of chilies. People don't touch the dish if it is not spicy enough.
known widely as the "national dish of Bhutan." "Ema" means chiles, and "Datshi" means cheese.
It is a simple stew made of a variety of chilies and a special cheese, yak cheese, called datshi. Variations of this dish include potatoes (kewa datshi), beef, beans (semchung datshi) or mushrooms (shamu datshi). But just chilies and cheese are their favorite! The chilies that are used in the ema datshi are really spicy and this dish is served over a bed of red rice, another staple food of the Bhutanese.
To balance the heat quotient in the dish, tomatoes, butter and cheese are added. In spite of this, it is hard to have one spoon without rushing for a glass of water. The Himalayan has a rare and unique kind of cheese named chhurpi.
Serves: 2
Preparation time:10 minutes
Cooking time:10 minutes
10 oz. chili peppers (spicy Thai green/red chilies and jalapeño)
1 red onion , sliced
1 tomato , sliced
3 cloves garlic , crushed
1 tablespoon unsalted butter
1 cup water
10 oz cheese , grated (a combination of cheddar or farmers cheese)
Salt to taste
Heat a pan and add butter. Add the sliced onion, tomato, garlic and chillies. Give them a quick toss and add the water. Season them with salt. Cover and cook until the peppers become tender.
Turn off the flame and add the cheese and let it melt in the residual heat.
Serve it over a bed of red or white rice.
Notes
For a flavorful dish, use a combination of chillies like Anaheim, jalapeño, and green chilies (Thai or Indian variety).
Increase or reduce the amount of chillies based on your tolerance for heat. You can also remove the pith and ribs to reduce the heat quotient
You can use any type of cheese especially one that melts. Avoid using stringy cheese like mozzarella. A combination of farmer's cheese, blue cheese & cheddar would be good.