Exotic fruits grow locally in the tropical environment, so there is always something to make the food exciting. Meals in Costa Rica often contain both rice and black beans, or at least one or the other.
Casado
The most traditional of Costa Rican meals, the Casado is an entire meal including white rice, beans, plantains, picadillo, salad and some type of meat (chicken, fish, pork or beef).
Gallo Pinto
Particularly popular for breakfast, the gallo pinto is a rice-and-beans dish prepared with onion, celery and other spices, sometimes accompanied with natilla or scrambled eggs.
Chifrijo
Chifrijo is made of corn tortilla, chicharrón (fried pork) and beans. Other popular versions are pollo frito (fried chicken) and a vegetarian version: yuca frita (fried cassava).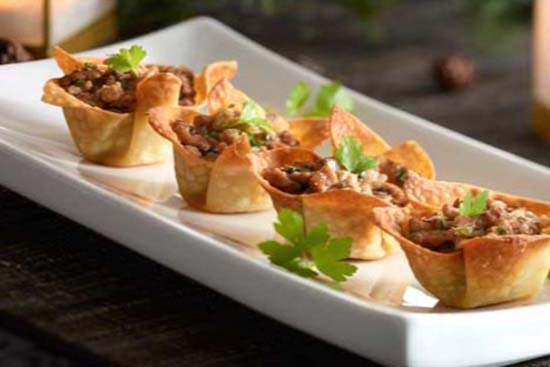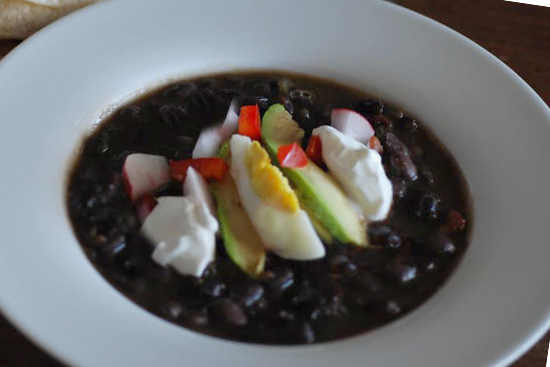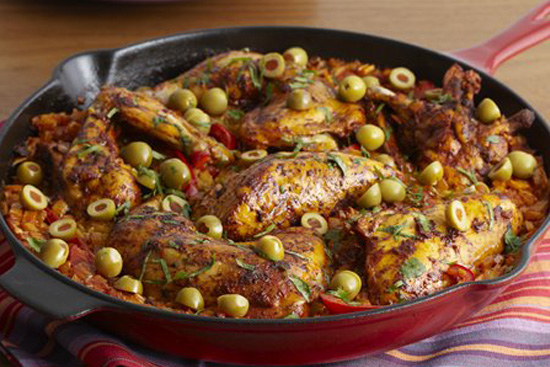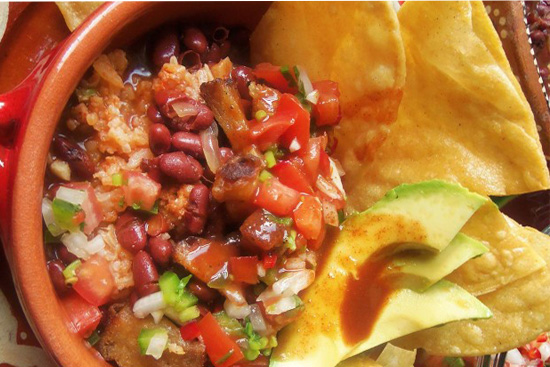 Corn tortillas, oil for frying and a little salt is all you need to prepare and enjoy homemade chips at home. Take your tortillas out of the plastic the day before and let them dry out. This will ensure a quick fry and crispy chips. One pound dry red beans soaked overnight in the slow cooker covered with plenty of water, 1/2 an onion, bulb of garlic, bay leaf and jalapeño. Cook on low for 8 hours or until beans are tender. If beans don't have a lot of broth, add a little chicken or vegetable broth, about 1 cupAdd salt once tender.
Serves: 6
Preparation time:40 minutes
Cooking time:2 hours
for the homemade chicharron
2 pounds pork belly
1 teaspoon sea salt
½ teaspoon pepper
2 tablespoons soy sauce optional
for the pico de gallo
6 Roma tomatoes deseeded and diced
½ cup white onion finely diced
1 clove garlic minced
1 large jalapeño or 2 serrano peppers, diced
1 red fresno pepper diced (removing seeds is optional)
¼ cup cilantro chopped, or to taste
juice of 1 lime
1 tablespoon olive oil optional
salt and pepper to taste
for the red beans
2 tablespoons olive oil
salt and pepper to taste
4 cups red beans or black beans, cooked with the broth
1/3cup white onion or yellow onion, diced
2 cloves garlic minced
1 stalk celery finely diced
1 teaspoon cumin
1 teaspoon chile ancho powder optional
2 tablespoons hot sauce
you will also need:
4 cups of your favorite cooked rice
homemade corn tortilla chips or a good thick, store-bought chip
1 to 2 avocados sliced
extra hot sauce for garnish
1. Combine the sea salt and pepper. Season the pork belly on both sides, add the soy sauce and rub in to season all over. Place the pork belly on a plate and refrigerate overnight uncovered.
2. Remove pork belly from refrigerator 30 minutes before cooking. Preheat oven to 500ºF. Place the pork skin side up on a wire rack, lined with a baking sheet. Bake for 10 minutes at 500 degrees, lower temperature to 325ºF and roast for another 90 minutes. Remove from oven and let cool before slicing.
3. When ready to prepare chicharron, slice the pork belly into bite-size pieces. Transfer to a heavy pot and heat to medium/low. This takes a little while because you want the pork to release the fat slowly and cook in its own fat. Stir now and then and cook until pork becomes crispy in most spots. Remove from pan and drain onto paper towels.
4. In a bowl, combine all of the ingredients for the pico de gallo. Season to taste, cover and set aside.
5. In a medium sauce pan, preheat 2 tablespoons of olive oil to medium heat. Add the onions, garlic and celery. Season lightly with salt and pepper and continue cooking for 5 to 7 minutes. Add all of the remaining ingredients for the beans. Bring to a boil, reduce to simmer. Cover and cook for 20 minutes, taste for salt.
6. Warm the chicharrones for a few seconds in the microwave. In a shallow bowl, ladle in some bean broth, rice, beans (without broth), chicharrones, pico de gallo and hot sauce. Garnish with tortilla chips and avocado slices.
Adapted from https://hispanickitchen.com/