The {Page-Turner-Cookbook} featuring
Indonesia
Cuisine is influenced by:
- Asian -
Two foods adored by Indonesians are tempeh – fermented soybeans usually found in block form that are high in protein and fibre – and krupuk, or deep fried crackers, made from prawn, seafood or vegetables, which are eaten at the start of a meal.
With 6,000 islands, there are many regional specialties, but wherever you are in Indonesia, most meals, including breakfast, are based around rice. Literally meaning "fried rice", nasi goreng is considered the national dish . It is a meal of stir-fried rice spiced with kecap manis (sweet soy sauce), shallot, garlic, tamarind and chilli and accompanied by other ingredients, mainly egg, chicken, prawns or salted dried fish.
Some of the intense flavour in Indonesian food comes from very sweet and sour ingredients – such as the thick sweet soy sauce called kecap manis, which is used in countless dishes. The sour notes in the cuisine come from tamarind and lime and the aromatics from shallots, ginger, galangal, pandan, turmeric, lemongrass and lime leaves.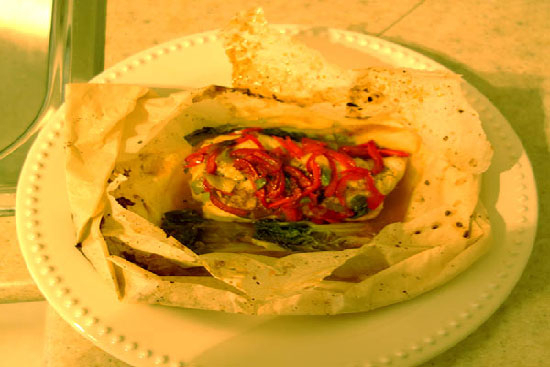 Satays, skewers of seasoned meat that are easy to prepare and quick to cook, are ideal for warm-weather dining and out door grilling.
Satays are the Indonesian version of shish kebab that does not have alternate layers of vegetables.
They can be made with almost any meat, poultry or seafood. This seasoned dish is often served with a spicy and sweet sauce made of ground peanuts and peanut butter.
Serves: 4
Preparation time: 25 minutes
Cooking time:20 minutes
1 lb flank steak
3 2-inch pieces lemon grass
1 piece lemon rind
1/2 cup finely chopped onion
2 tablespoons soy sauce, preferably ketjap manis, a sweet soy sauce
2 tablespoons vegetable oil
1/2 teaspoon shrimp paste (optional)
1/4 teaspoon ground cumin
1/2 teaspoon ground coriander
1/2 teaspoon ground turmeric
To taste salt
1/2 teaspoon sugar
PEANUT SAUCE FOR SATAYS
2 tablespoons corn or peanut oil
1 teaspoon minced garlic
1 tablespoons finely chopped onion
1/2 teaspoon dried crushed red pepper flakes
1 tablespoon grated ginger
1/4 teaspoon shrimp paste
3 tablespoons tamarind liquid
1 1/2 tablespoons sugar
1 cup peanut butter
1 tablespoon lemon or lime juice
1 1/4 cups boiling water
Cut the steak into one-inch cubes and put them in a mixing bowl. Add the lemon grass and lemon rind. Put the onion, soy sauce, oil, shrimp paste, cumin, coriander, turmeric, salt and sugar in the container of a food processor or blender, and blend to a fine paste.
Pour this over the meat and blend well. Let stand one hour. Light and heat the grill.
Arrange equal portions of the meat on each of eight wooden skewers that have been pre soaked in cold water. Place the meat on the grill and cook about two minutes.
Turn and cook about two minutes on the other side. Serve with peanut sauce.
The sauce:
Heat the oil in a saucepan, and add the garlic and onion. Cook stirring over low heat for 2 to 3 minutes.
Add the pepper flakes. Ginger, shrimp paste, tamarind liquid, sugar, peanut butter, and lemon or lime.
Whisk in the boiling water. When blended, remove from heat.
If the sauce starts to curdle, add a little more water.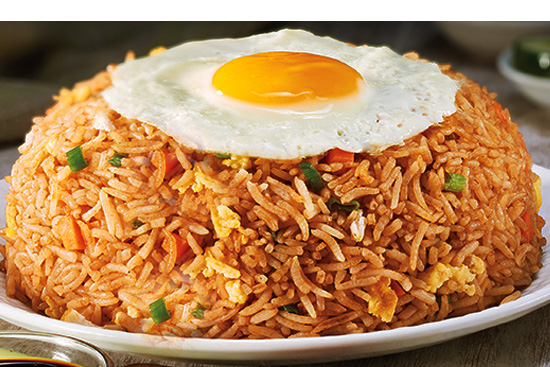 The literal translation of Nasi Goreng is "fried rice" in Indonesian and Malaysian – and that's exactly what it is! It's mainly rice with just a little bit of meat and just onion for the vegetables.
Recipe inspired by PAT TANUMIHARDJA
Serves: 3
Preparation time:20 minutes
Cooking time:10 minutes
For the Spice Paste:
2 small shallots (2 ounces; 55g), roughly chopped
3 medium cloves garlic
1 large fresh green chili, such as Fresno or Holland, stemmed and seeded, or 1 teaspoon sambal oelek, such as Huy Fong (see note)
1/2 teaspoon terasi(Indonesian shrimp paste), optional
For the Nasi Goreng:
4 cups cold cooked jasmine rice (21 ounces; 600g) or other medium- to long-grain rice (see note)
2 tablespoons (30ml) neutral oil, such as canola or sunflower oil
2 tablespoons (30ml) kecap manis (see note), plus more for drizzling
2 teaspoons (10ml) soy sauce
Kosher salt
Ground white pepper
To Serve:
2 fried eggs, cooked sunny-side up or over easy
Sliced cucumbers (optional)
Sliced tomatoes (optional)
Fried shallots (optional)
1. For the Spice Paste: Add half the shallots to a mortar and grind with the pestle until a coarse purée forms. Add remaining shallots, followed by garlic, chili, and terasi (if using), grinding with the pestle until each ingredient is mostly incorporated before adding the next. The final paste should resemble thick oatmeal in texture. Alternatively, combine all spice paste ingredients in a small food processor and process until they form a paste.
2. For the Nasi Goreng: If using day-old rice, transfer rice to a bowl and break rice up with your hands into individual grains.
3. Heat oil in a large wok or skillet over high heat until shimmering. Add spice paste and cook, stirring constantly and scraping the bottom of the wok or pan to prevent the paste from burning, until a pungent smell permeates your kitchen and the paste turns a few shades darker, 2 to 3 minutes. Reduce heat to medium at any time if the paste appears to be browning too quickly.
4. Add rice to the wok and stir to coat with the spice paste. Add kecap manis and soy sauce. Stir and cook until rice is evenly colored and hot throughout. Season with salt and white pepper.
5. Divide rice between two plates and top each plate of rice with a fried egg. Garnish with cucumber and tomato slices and shower with fried shallots, if you like. Serve immediately with kecap manis alongside for drizzling.
Notes:
Sambal oelek is an Indonesian chili paste, traditionally made with nothing more than hot red chilies and salt. You can find it at Asian markets or in the "international" aisle of some supermarkets.
Kecap manis is Indonesian sweet soy sauce, typically made by combining soy sauce with palm sugar.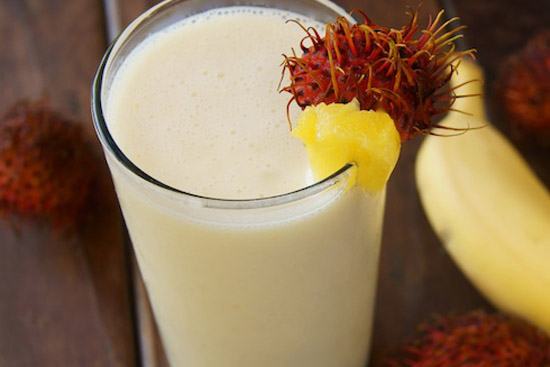 The rambutan is closely related to such tropical fruits as the longan, lychee, and mamoncillo. The exterior of the rambutan has an unusual, red, almost 'furry' appearance, but the interior resembles the lychee nut. The flavor is similar to the lychee, longan, and grape.
The name for this fruit derives from the Malaysian word for 'hairy' (rambut) which aptly describes its appearance. In Viet Nam, the rambutan is termed 'chom chom,' which means 'messy hair.' While the fruit is ripening it is covered with a spiny green outer skin, which turns long and red when fully ripe. Interestingly, the rambutan remains fresher longer when harvested with the branch attached.
Traditional medicinal uses include boosting energy, relieving anemia, reducing pain and keeping the skin supple and young. All of the rambutan plant is used, from the root to the skin of the fruit, the seed and leaves to relieve such ailments as dysentery, diabetes, fever, and hair loss.
Serves: 2
Preparation time:5 minutes
3 rambutans (peeled and pitted)
2 cups coconut meat, cut into small pieces
1/3 cup pineapple chunks
1 banana
1. Gather the ingredients.
2. Combine all of the ingredients in a blender and process until smooth.
3. Pour into a tall glass and enjoy.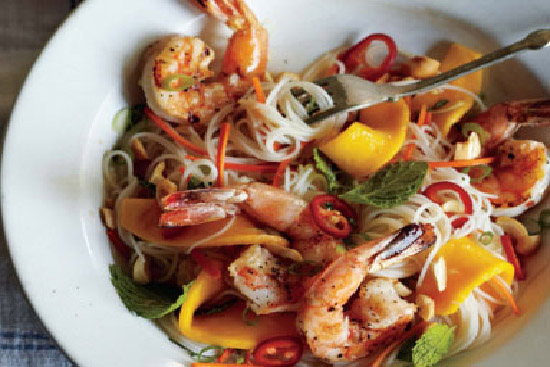 Serves: 3
Preparation time: 20 minutes
Cooking time:15 minutes
10 - 12 oz. (400-450 g) fresh Asian-style noodles OR fettuccine-style noodles
1 cup small cooked shrimp, thawed and drained if frozen
1 zucchini, grated with a wide grater or peeled into thin strips with a vegetable peeler
1 tomato, cut into small pieces
1 red or green chili, de-seeded and thinly sliced
1 red and 1 green bell pepper, de-seeded and cut into strips
3 spring (green) onions, sliced
1 cup fresh coriander/cilantro, lightly chopped
1/2 cup fresh basil, lightly chopped
1/3 cup dry roasted peanuts or cashews, unsalted, and left whole or lightly chopped
SALAD DRESSING:
1/3 cup lime juice (about 2 limes, juiced)
4 Tbsp. fish sauce (available at Asian/Chinese stores)
2 Tbsp. soy sauce
2-3 tsp. sugar (adjust to taste)
1-3 tsp. chili sauce OR 1/4 to 1/2 tsp. cayenne pepper OR crushed chili (adjust to taste)
2 cloves garlic, minced
Prepare noodles according to the directions on the package. Rinse noodles with cold water, drain, and set aside.
Prepare salad dressing by mixing all dressing ingredients together in a cup or small bowl until sugar dissolves. Taste-test for sour/sweetness, adding more sugar as desired. Note that the taste of the dressing will be milder when distributed among the noodles.
Prepare the vegetables and shrimp, and place them in a very large salad or mixing bowl. Add the herbs and nuts. Stir the dressing once more and pour over, tossing well to mix.
Now add the noodles and toss again Once well-tossed, taste-test the noodles, adding more fish sauce if not salty or tasty enough.
You can serve this salad immediately, or cover and place in the refrigerator until ready to eat (this salad will keep for up to 3 days, and makes great workday lunches!).
Garnish with a few extra sprigs of the fresh herbs, plus some chopped peanuts. For extra spicy, Thai chili sauce can be served on the side, either store-bought or my own.