The {Page-Turner-Cookbook} featuring
Yemen
Cuisine is influenced by:
- Asian -
Yemen's most famous dish is considered to be Saltah سلتة (also spelt Salta), and Yemeni lunch often consists of it. Ingredients are minced meat and vegetable (eggplant, tomato, okra or onion is mainly used, like Ratatouille in France), and cooked with heat on high, then finally Fenugreek (leaf) puree is topped on.
Chicken, goat, and lamb are the staple meats in Yemen. They are eaten more often than beef, which is expensive. Fish is also eaten, especially in the coastal areas. Cheese, butter, and other dairy products are less common in the Yemeni diet.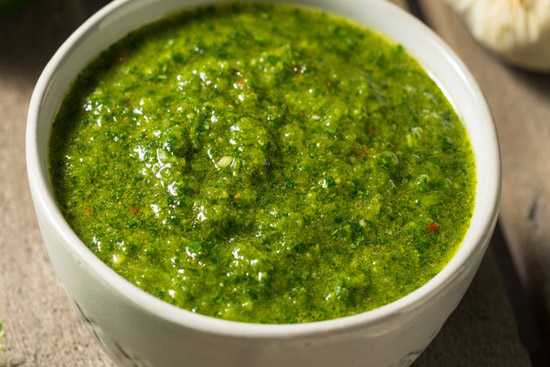 Schug also known as schug, zhug, and skhug is a Middle Eastern blend of herbs, chilies, and toasted spice often used in Yemeni and
Israeli cooking.It might be red, green, or brown. The sauce is made from fresh red or green hot peppers and is seasoned with garlic, coriander, and cumin. Then fresh herbs such as parsley and cilantro are added. A brown schug is usually a green pepper variety with tomatoes added in.
Serves: 8
Preparation time:5 minutes
Cooking time:8 minutes
1 teaspoon coriander seeds
1 teaspoon cumin seeds
1/2 cup seeded and roughly chopped fresh hot green chilies, such as serrano or jalapenos, stemmed and seeded
2 to 3 garlic cloves, smashed and peeled
2 cups lightly packed cilantro leaves
2 cups lightly packed flat-leaf parsley leaves
zest from one lemon
3 tablespoons lemon juice
salt and freshly ground black pepper to taste
1/2 cup extra-virgin olive oil
1. In a small skillet, toast the cumin and coriander seeds until they smell fragrant and have turned a shade darker in color. Transfer to a spice grinder or crush with a mortar and pestle.
2. Put the chilies and garlic in a food processor and pulse a few times until they are fairly fine. Add the cilantro, parsley, lemon zest, reserved toasted spiced, 1 tablespoon of lemon juice, 1/2 teaspoon salt, and a few twists of black pepper. Pulse until all is finely chopped into a rough purée. Continue mixing while drizzling in the olive oil. Stop the processor before the sauce is completely blended and smooth—you want some texture. Taste the sauce and adjust the seasoning to taste.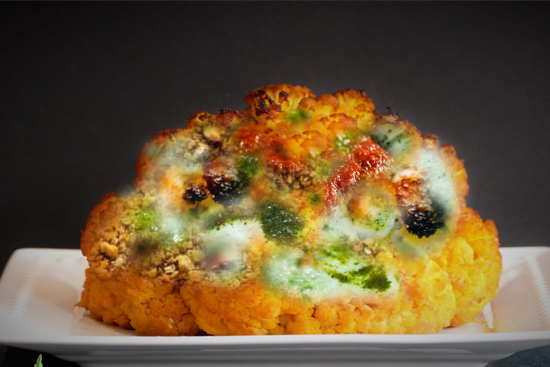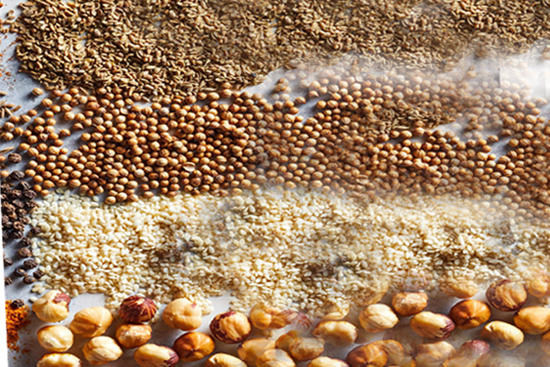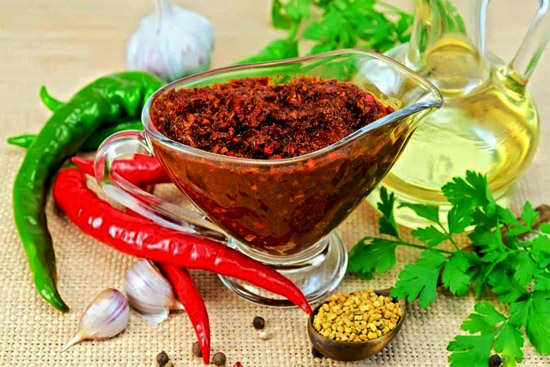 Originally from Yemen and Israel, this fiery hot sauce components are always from a variety of fresh chiles, herbs, and spices, and garlic. Use schug as a dipping sauce for toasted pita, falafel or as a marinade for kebobs. Red zhug, also known as Zhoug or schug is made with red peppers while green zhug is made with green peppers, or jalapeños.
Preparation time:10 minutes
Cooking time:5 minutes
Makes 1 cup
1 cup grapeseed oil
2 large red bell peppers, stemmed and seeded, cut into 8 pieces
8 red chiles stemmed and seeded, cut in half
1 tablespoon plus 1 teaspoon ground paprika
1 teaspoon ground turmeric
1⁄4 teaspoon ground cloves
1 teaspoon ground green cardamom pods, with the husks
1⁄2 teaspoon ground cumin
2 teaspoons kosher salt
3 garlic minced cloves
1 tablespoon plus 1 teaspoon lemon juice
2 tablespoons packed cilantro leaves, chopped
Add the oil to a large sauté pan and place on the stove over high heat. Once the oil is hot, add the bell peppers and chiles and fry while continuously stirring for about 10 minutes, until the peppers start to blister and darken in color.
Remove the peppers and chiles from the oil, set aside, and let cool. Add the cooled fried peppers and chiles and the paprika, turmeric, cloves, cardamom, cumin, salt, garlic, and lemon juice to a food processor and blend, stopping to scrape down the sides of the bowl with a spatula when necessary, until the mixture is the consistency of a coarce puree. Transfer to a bowl and set aside to cool, then add the cilantro and stir to combine. Store in an airtight container in the refrigerator for up to 2 weeks.